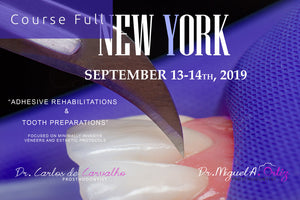 New York - Sep 13-14th, 2019
Sale price

$2,349.00

Sale
Date: Friday, September 2019

Time: 08:00AM - 06:00PM

Location: New York City 

Address: New York LaGuardia Airport Marriott 102-05 Ditmars Blvd, East Elmhurst, NY 11369


Quantity must be 1 or more
Day 1 content
Adhesion Theory: History, Science and Clinical Applications
We begin with a comprehensive lecture on everything you need to know about adhesion. This is the base from which we will build the entire weekend experience.
Aesthetic Dentistry Philosophies: What is Minimally Invasive Dentistry?
Using scientific evidence, we will thoroughly explain how you should develop your treatment philosophies.
Hands on: Preparations for veneers
Time to prep!.. This is a hands-on course. So, let's get prepping.
Minimally Invasive Dentistry: Aiming for Longevity
A recurrent theme of all DentLit Academy courses is science. This time, we will use science to define how we should prep anterior teeth for minimally invasive restorations.
Hands on: Tooth Preparations for Veneers with One-on-One Coaching.
The Hands-On component of the course is at it's peak. Now, and until the end of the day, we will focus on prepping by using all the scientific reasons learned. You will have One to One time with Dr. Ortiz and Dr. De Carvalho to discuss all your preps, designs, or any other questions you might have.
Day 2 content
Full Cementation Process and Techniques
If you believe that delivery of restorations is just as simple as cementing it then we have a lot to show you. During this lecture we will give you so many tips and scientific tricks of the delivery process that your mind will be blown.
Hands On: Posterior Tooth Preparation
Show me how you prep a posterior tooth.
Historical vs Scientific Approach to Tooth Preparations. Did I learn it all wrong?
Probably the most pivotal point of the entire weekend. Dr. Ortiz will have you face the reality of why we do what we do in dentistry. Where did all the knowledge come from? Does it still make sense to keep doing it that way?
Dr. Miguel A. Ortiz Real Life Cases Discussion
Hands on: Posterior Tooth Preparations with One-on-One Coaching.
Prep and prep and prep and prep. With Dr. Miguel A. Ortiz and Dr. Carlos De Carvalho next to you. One on One. Until all questions have been answered.
---