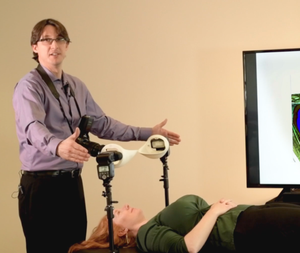 ChairSide Lighting Set
Orders outside of the USA will be responsible for paying customs and duties upon delivery. We do not refund due to refusal to pay these fees.
Quantity must be 1 or more
This set has been designed by Dr. Miguel A. Ortiz. It works perfectly with "The Simple Protocol for Intraoral Photos". As describe in his course and his book "LIT", you can do the entire intraoral protocol without moving the patient, the lights or yourself from one position. This is the set up Miguel uses every day in his private practice. It fits perfectly in small operatories and it gives you the FREEDOM to not have to have the lights stuck to your camera. Set the lights and you are ready to go. No more dealing with over or underexposed photos every time you get closer or farther from the patient. No more dealing with a heavy camera with impossible wings or brackets. When you are done, fold them in less than 30 seconds and put them behind any door. The unique silicone diffusers are almost indestructible and never lose their shape. Highly recommended. 
Set includes:
- 2 tripods
- 2 speedlights
- 2 magnetic silicon diffusors and attachments
- 1 commander 
*all products are North American plug and voltage (120v/60hz) 
**international orders will be responsible for customs and duties fees upon delivery